Mindvalley courses have created enough buzz among people, and now everybody wants to become a Mindvalley member.
But confusion arises when it comes to choosing the courses. Which Mindvalley quest would be the best for you? Well, the answer depends on the problems you're dealing with and the kind of solution you need.
Mindvalley covers every facade of life- mind, soul, body (fitness), career, family & parenting, relationship, and more.
With the Mindvalley All-Access, you can access the entire Mindvalley library and learn from their 50+ quests. But I know that's not possible even if you take the All-Access.
Therefore, to ease your confusion, I have reviewed the top 10 Mindvalley quests catering to different categories of life. These quests are designed by famous personalities and have helped hundreds of people.
A Quick Look Into My Top 5 Picks
I have detailed reviews of the ten best Mindvalley quests later in this guide, but before we jump into the extensive list, here are my top five courses from Mindvalley and the reasons why they are the best.
The Silva Ultramind System- A 28-day quest to gain ultimate success, peace, and abundance in life.
Duality- The energy healing process to get rid of continuous uncertainties and find our answers by activating our energy chakras.
Wildfit- The most effective quest to eliminate food addiction and delve into a healthier life without compromising our taste buds.
Lifebook- The secrets to leading our dream life with abundant success without compromising on inner happiness and peace.
Super Brain- The secrets to activating the exponential capabilities of our minds to learn faster with maximum memory retention.
A Brief Overview Of Mindvalley Quests: What Do They Promise You?
Mindvalley is one of the leading global online learning platforms. This is not your usual learning institute where you'll get formal education.
Mindvalley is beyond that. All the Mindvalley quests are about helping you find the perfect way of leading life without getting bothered by obstacles.
It's also about leading a life full of bounties without compromising on your inner peace and happiness.
All of us feel demotivated, overburdened, and bothered by family or societal pressure at some point in life. At other times, we are unable to figure out why even after trying our best, we aren't achieving our goals.
This is where Mindvalley comes into the scene. Their quests reveal how to use our extraordinary power to turn things according to our desire.
They teach us how to activate our energies and train our minds to see beyond what ordinary people see.
Most Mindvalley courses have bit-size lessons, and each course is not longer than seven or eight weeks. The majority of the courses are devised by different meditation techniques to help your mind and soul get closer to your goals.
Top 10 Mindvalley Quests Overall Development: Reviewed
Based on my one-year Mindvalley experience and after seeing other users' feedback, here are the top 10 Mindvalley quests that promise to transform your life.
The Silva Ultramind System By Vishen Lakhiani
Duality By Jeffery Allen
WildFit By Eric Edmeades
Lifebook Online By John & Missy Butcher
Superbrain By Jim Kwik
Uncompromised Life By Marisa Peer
EQ Program By Ken Honda
Be Extraordinary By Vishen Lakhiani
Conscious Uncoupling By Katherine Woodward Thomas
Quest For Personal Mastery By Srikumar Rao
1. The Silva Ultramind System By Vishen Lakhiani
The Silva Ultramind System is a 28-day sound-based meditation program created by Mindvalley founder Vishen Lakhiani.
The quest is based on the Silva Method, which was made popular by Jose Silva in 1960. The short meditation sessions of the Silva Ultramind quotes use the mind-powering technique.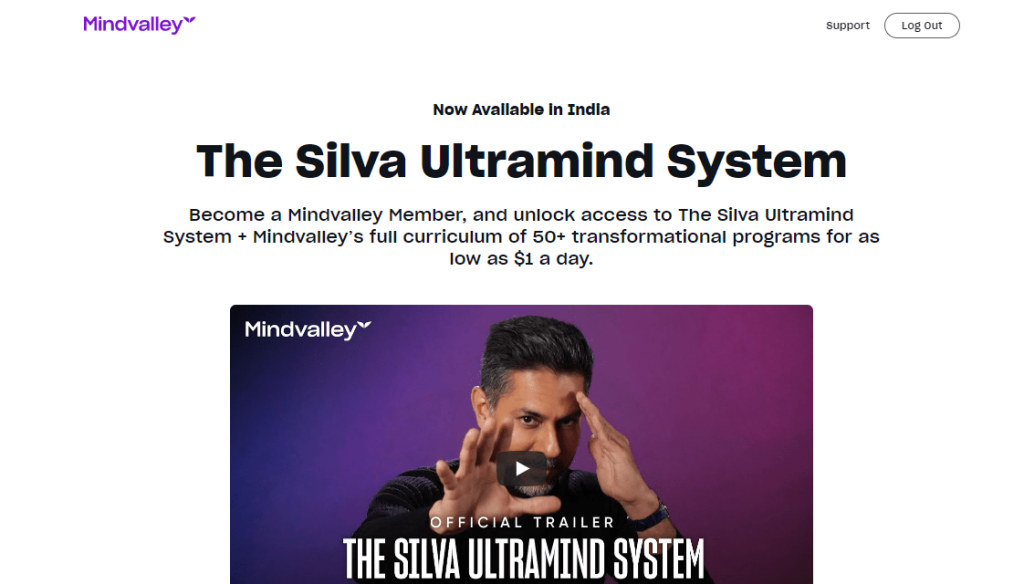 It makes us aware of how our mind works in different states of consciousness. And during this particular state of consciousness, we can gain information beyond our physical body.
The Silva Ultramind is a proven manifestation technique that helps you manifest your goals, and they actually work.
It was one of the first quests I took after taking the Mindvalley All-Access to pass, and I was beyond surprised to see how we can train our minds to manifest our goals, find positivity or improve our health. 
2. Duality By Jeffery Allen
The next best quest, in my view, is Duality by Jeffery Allen. This is again a guided meditation course but with a different motif.
The central purpose of Duality is to help you get answers from your intuition, get rid of energy blocks, help with self-healing, and improve your relationships.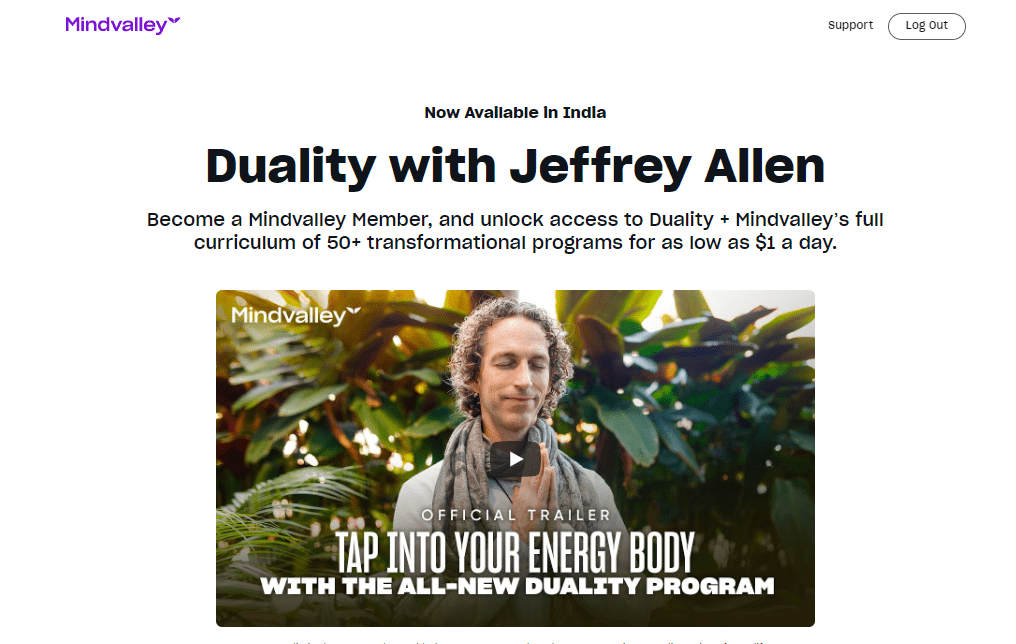 You'll learn about how you can use your energy side to draw energy to the physical world and get desired results as per your meditation.
Some of the core lessons in Duality are- learning about Energy Awareness & Personal & Presence, Healing Our Bodies Through Energy, Empathy & Healthy Personal Boundaries, Using Chakras to Communicate & Manifest Better, etc.
Duality is a seven-week program; if you take this quest, it'll be the best & wisest decision ever.
3. WildFit By Eric Edmeades
If you have tried and failed in your fitness journey, Wildfit could be your savior. It's an everyday story that we join the gym and try some fancy diets, but they only last for a specific time.
What we fail to do is understand our relationship with food and the psychology behind food addiction. Wildfit is a 90-day fitness program that is entirely different from all conventional fitness routines.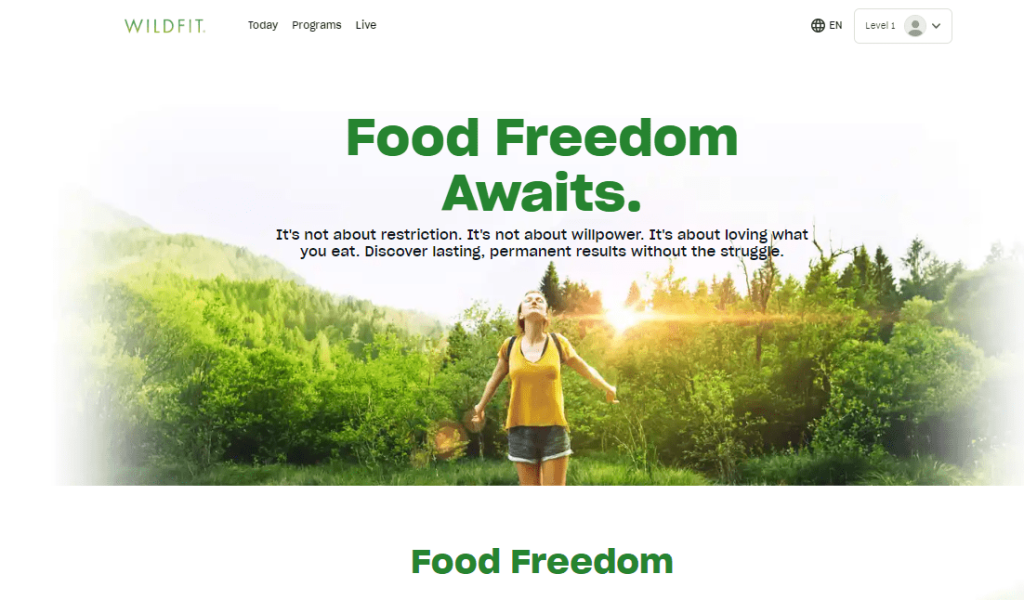 It does not ask us to join the gym or start working out, or to go on an extreme diet. In these ninety days, Eric helps us understand why we make certain food choices and how they are making us unhealthy.
The entire course is based on reprogramming our system by changing our eating habits. The course promises that by the end of these quests, we'll no longer be craving any junk. We will consciously be making healthy food choices and be the best version of ourselves.
The best part is the program provides lots of recipes that are unquestionably delicious, healthy, and provide necessary nutrition.
4. Lifebook Online By John & Missy Butcher
The next best quest in Mindvalley is Lifebook Online by John & Missy Butcher. This is a six-week quest to help you envision your life the way you want it to be.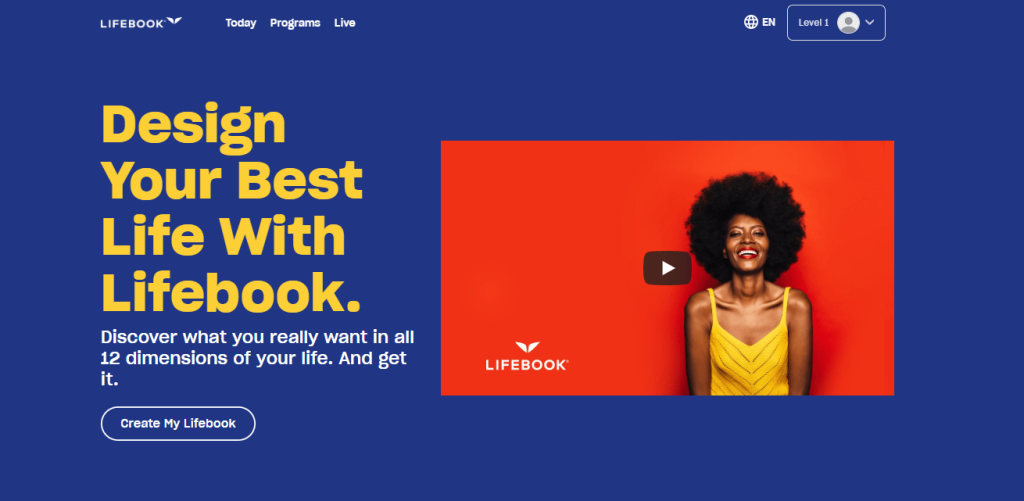 John & Missy Butcher are successful entrepreneurs who own multiple businesses. They have found immense success in life without compromising on happiness and mental peace.
The program asks you to create a Lifebook with different pillars that surround your lives. John Butcher shows us what his personal Lifebook looks like. The book is basically a clear vision of how we imagine our ideal life unbothered by societal expectations.
If you need a direction in life about fulfilling your dreams and achieving the goals that you want, Lifebook is the best quest.
It's a life-changing course for everyone who needs a push in their lives.
5. Superbrain By Jim Kwik
SuperBrain is the perfect course for students to improve their memory, learn faster, and forget less. Jim Kwik reveals ten powerful hacks through which we can unlock the extraordinary potential of our brain.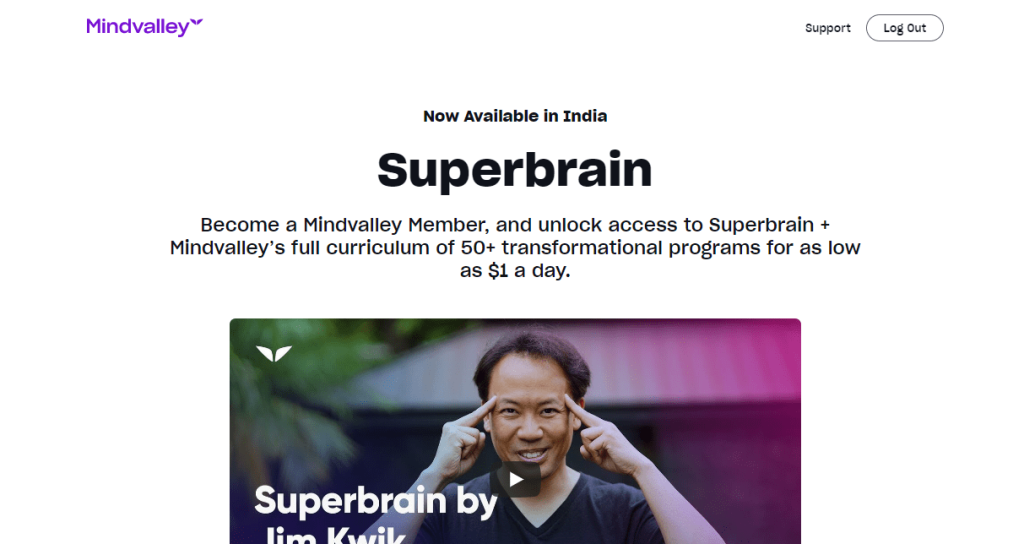 He reveals the big lies we were told about how our brains work and tells how we can activate our cognitive capacity to make our brains work to our full potential.
Jim also talks about hacks to change our old habits, grow self–esteem & brain concentration, learn more quickly, increase brain efficiency and retain maximum information.
If you're a research scholar or student, there is no better course than SuperBrain.
6. Uncompromised Life By Marisa Peer
Are you finding it challenging to achieve your goals and strike the perfect balance between work and personal life, or are you unable to cope with your relationships?
If these things sound similar to you, the Uncompromised Life by Marisa Peer can be your perfect guide.
These eight-week quests help you rise above your life's obstacles, self-doubts, and limits. The program helps us to awaken the achiever we have within us. The Uncompromised Life is one of my personal favorite quests because of how it helped me outgrow my insecurities.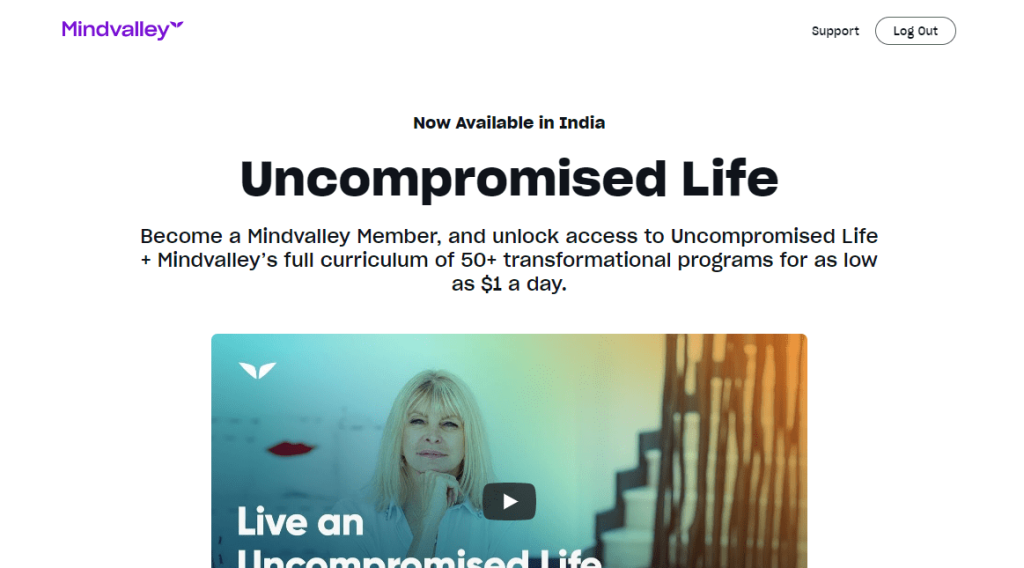 It made me realize how I can use my habits and thought processes to work in my favor of me and not against me.
The quest works through Marisa Peer's hypnotherapy process to completely transform our neurological setup. This scientifically proven process even works to cure stress, anxiety, pain, depression, and fear management.
7. EQ Program By Ken Honda
Who does not want a life of abundance, right? But even after working very hard, we don't earn enough.
Also, there is so much uncertainty, fear, and drama surrounding the concept of money. Ken Honda, Japan's No.1 money teacher, says that the reason for so much uncertainty around money is that we are not aware of the most important concept around money.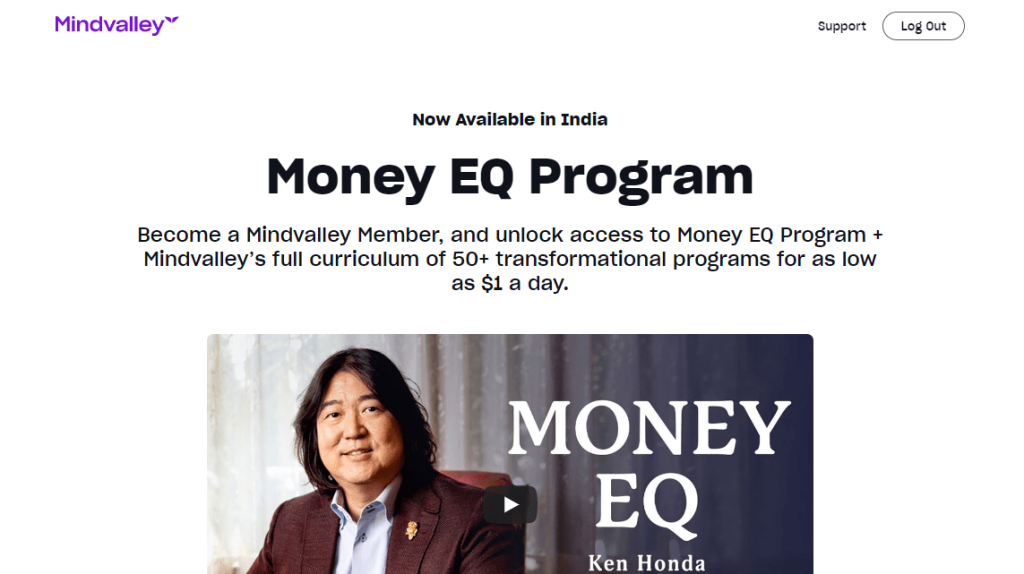 We all are programmed with a money EQ that shapes our financial situation. If your money EQ is low, reaching the ultimate financial goal will not be possible.
Ken Honda teaches us the complete process of understanding money EQ and how to increase it. His secret tips help us achieve our monetary target and increase the overall quality of life.
This is one of the best Mindvalley quests, especially for budding entrepreneurs, people struggling to find financial stability, and anyone facing monetary issues.
8. Be Extraordinary By Vishen Lakhiani
I would recommend the next best Mindvalley course to everyone again by its founder, Vishen Likhiani.
First, the program explains about different levels of our minds. Each person on this planet works from one of these levels, which influences our capacity for success, achievement, and fulfillment in life.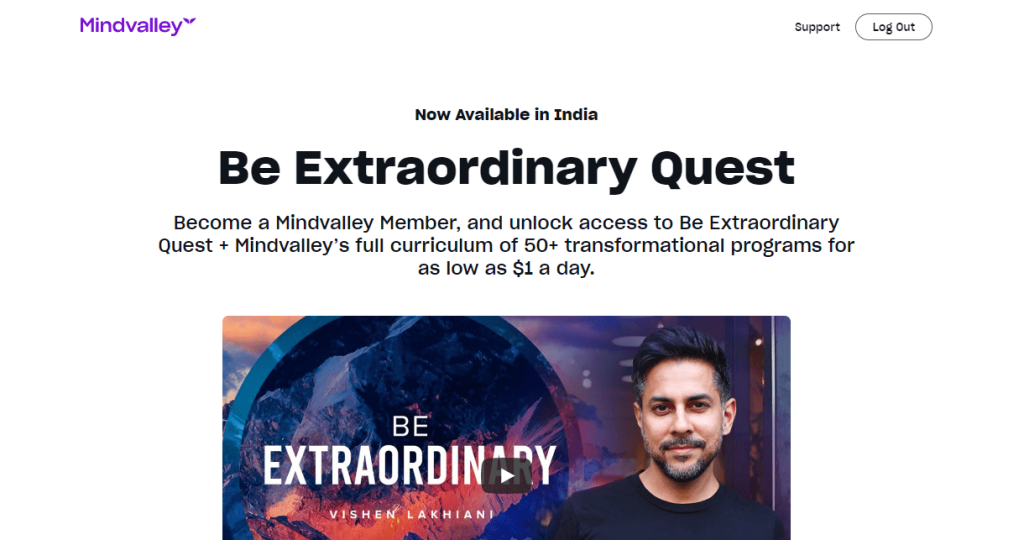 Be Extraordinary is a 30-day program where each day, Vishen Lakhiani teaches us how to rise up through these three stages of life to be able to give our peak performance and achieve rapid success in life.
He introduces 18 powerful tools using which we can upgrade our way of leading life and transform the typical way we think, behave or perform.
Be Extraordinary is the ultimate quest if you want to rise above your competitors and unlock your exponential capabilities.
9. Conscious Uncoupling By Katherine Woodward Thomas
Ending a relationship is hard. Some keep struggling to get over the memories, things that led to the breakup, and the unbearable pain, guilt, and sense of shame.
Katherine Woodward Thomas says that this happens because, most often, we are clueless about the healing procedure and how we can move ahead in life, leaving aside the trauma, pain, sense of shame, or guilt.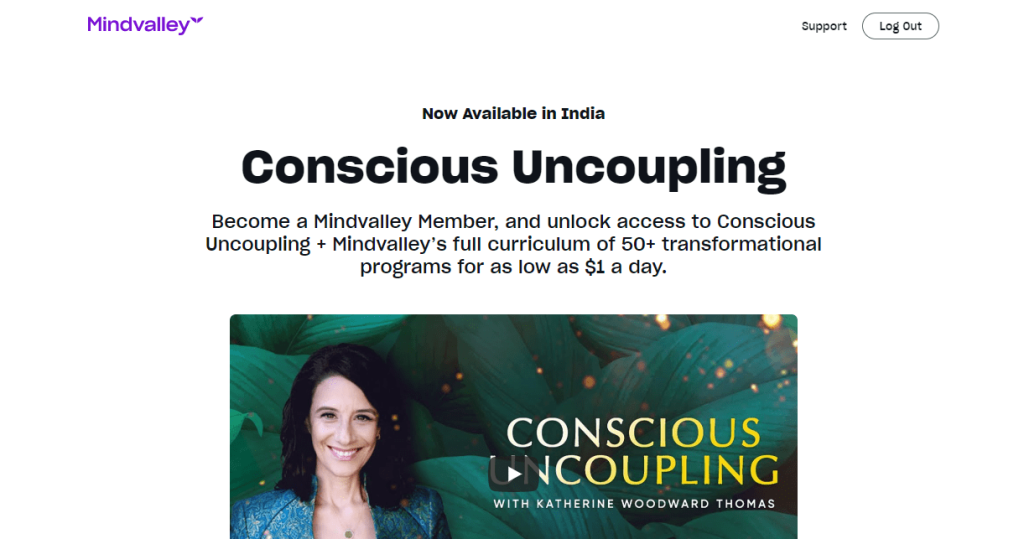 Breakups can make one's life difficult. Most people lose productivity and the motivation to resume work. Unconscious Uncoupling reveals a simple five-step method to heal yourself and resume your normal life.
10. Quest For Personal Mastery By Srikumar Rao
I am wrapping up this list of the top ten Mindvalley quests with Srikumar Rao's The Quest For Personal Mystery. This is again a personal development course that teaches us a unique approach to personal growth and resilience.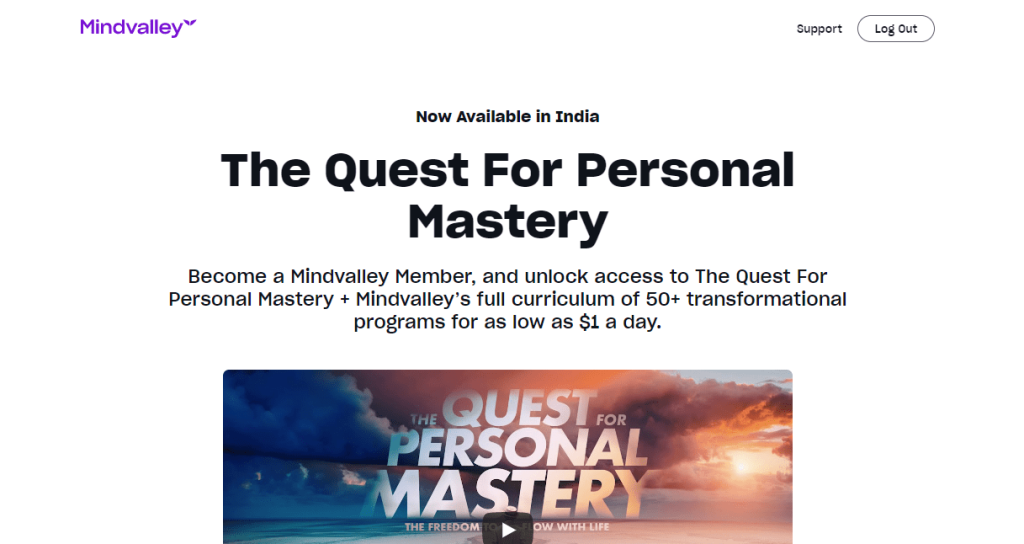 Srikumar Rao combines the secrets of ancient poets and philosophers, timeless, universal truths, and your inner intelligence. This is a 45-day quest that helps us understand our inner landscape through different exercises.
These exercises are meant to become a part of our everyday life to lead our life the way we want them to be. 
Related Read:
Overview:
Mindvalley is one of my top favorite online learning platforms. After trying their multiple quests, I can say that they truly offer what they promise. If you're struggling from any inner struggle, lack motivation, or want to find a better direction in life, Mindvalley is the platform for you.
I hope my list of the ten best Mindvalley courses has helped you decide which one you want to sign up for. If you've any other queries, let me know in the comments.