Jeffery Allen is famous for his energy-healing meditations, and his Quest for Duality has also created a lot of buzz. 
Duality is one of the famous Mindvalley quests. It's a 48-day meditation quest with the purpose of transforming your life and giving you the power to take charge of your own life. The Quest promises to help you unlock your superpowers and extraordinary potential. 
But since it's a paid program, people want to know whether Duality is worth investing in or not. This is why I'm here to take you through the entire Quest of Jeffery Allen's Duality and share my experience with you. I'm sure this extensive review will help you make up your mind regarding Duality. 
What Is The Main Purpose Of Jeffery Allen's Duality?
The primary purpose of Duality is to eliminate any energy blocks from your life and seek solutions to your problems from your own intuitions.
By familiarizing yourself with the energy chakras, Duality aims at self-healing, letting you lead a happier, healthier, and more energized life. Duality not only gives you the power to heal yourself, but with complete dedication, you gain the power to heal others as well.
Duality is a quest to transform your life. The Quest helps you get out of stress, depression, and anything that is disturbing your mindset. 
Who Is Jeffery Allen?
Jeffery Allen is a renowned energy healer. He was an engineer by profession but later turned into an energy healer.
According to him, we often lose ourselves in the race to get success, money, and fame. This is not how life is supposed to be. Life should be energetic, fun, and exciting, and we can be happy and successful at the same time.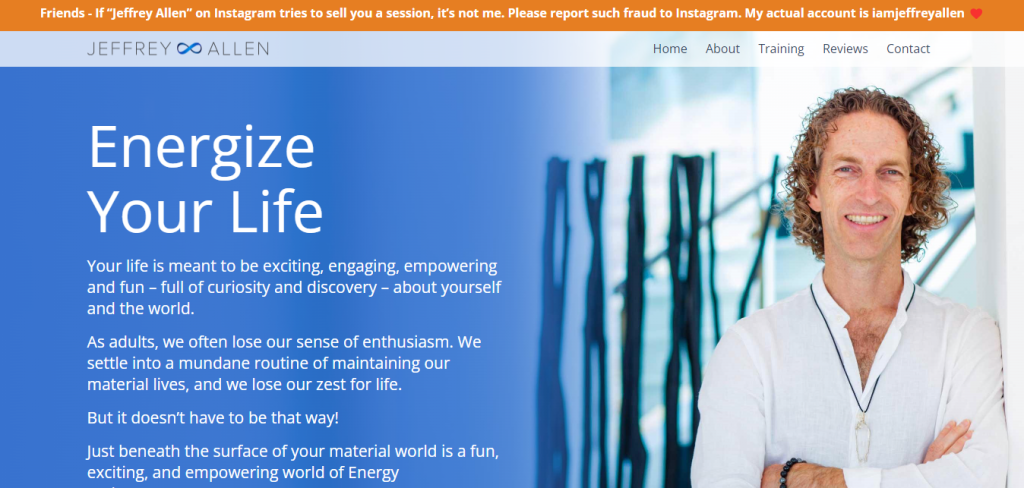 He says that most of us are unaware of the world of energy and awareness. And he has helped millions of people find that energy world so that they can have the power of happiness in their own hands.
Jeffery Allen is also a Mindvalley instructor and, as you know by now, is the creator of Duality. Duality is similar to his other meditation programs and goes in the sink using the same energy-healing techniques. 
Jeffery Allen promises that by using his meditation techniques, you can bring back the joy, happiness, and excitement in your life without compromising your career goals. 
A Complete Detail Of Jeffery Allen's Duality: The 48-Day Quest Is Explained
To help you get a vivid idea of how Duality works, I have an entire 48-day quest breakdown. But instead of looking into the program day-wise, I have listed it weekly. 
The Quest begins with an introductory video where you'll learn what Duality is about. What to expect from the program and Jeffery Allen also mentions the key terms he will be using throughout the Quest. 
These meditation sessions are 20 minutes to half an hour. Make sure you find a quiet place during the process to concentrate fully. 
Phase 1: Energy Awareness And Personal Presence
One of the primary reasons we suffer is that we're not self-aware. Hence, the program first begins by making ourselves self-aware. Also, it familiarizes us with energy, self-growth, and other areas of personal development.
The meditations of the first week teach us the difference between physical and energy awareness and how by changing just a few things, we can create a healthier environment around us. 
Other important things, like the connection between body and spirit, healing techniques, etc., are also shared in the first phase of the Quest. 

Phase 2: How To Attain Mental And Intuitive Clarity
The beginning of the second phase focuses on identifying the chaos or the noise that disturbs us. This is that inner voice that constantly tries to demotivate us, bring us down, or sway us away from achieving our goals.
But instead of cutting this inner voice off, Jeffery Allen asks us to identify the noise so that we can understand its effect on our mood, relationships, work, and personal life.
This exercise helps to deal with problems like overthinking, identifying the triggering points, and switching them off.
Week two also includes meditation programs to clear mental distractions to relax our minds. Things like how we can achieve universal wisdom so that we can take action with complete awareness and such things are also being covered during the second week.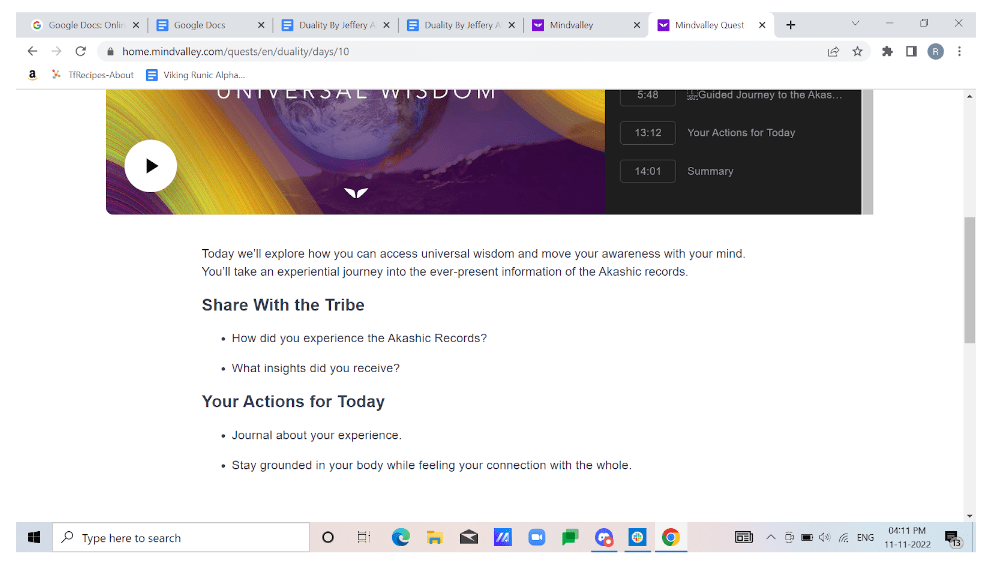 There are self-practice sessions also, and they are as follows-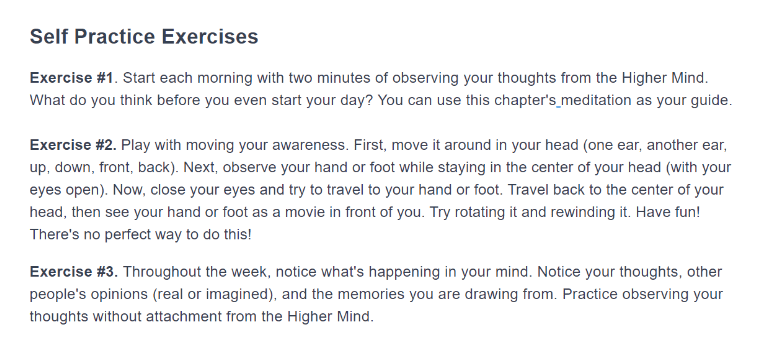 Phase 3: How To Heal Our Bodies With Energy
We have been talking about healing, but healing without some powerful tools or techniques can be difficult. And for that, Allen introduces the three main ancient healing techniques in the third phase for our overall development.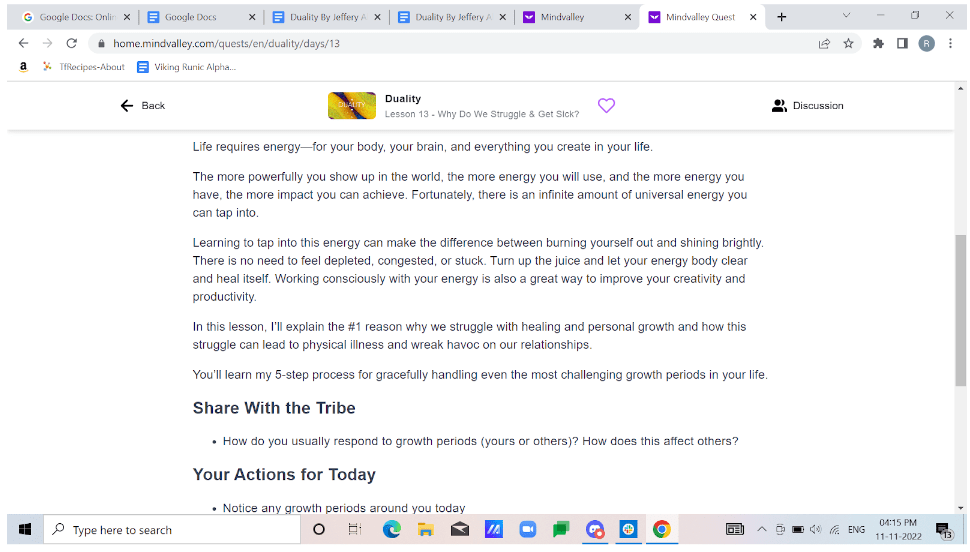 The third stage also covers crucial things like using Earth Energy to cure pain or distress. You'll also learn about activating Hand Chakras to use our energy on demand. 
Stage 4: Building Empathy And Healthy Personal Boundaries
The primary focus of this stage is to protect ourselves from negative energy. We are well aware that there is a lot of negative energy around us, which impacts our mental peace. 
Allen reveals ways of blocking those negative energies or cutting ties with negative people without creating any fuss.
We can be emotionally protective without losing our empathy for people. It's all about drawing healthy boundaries.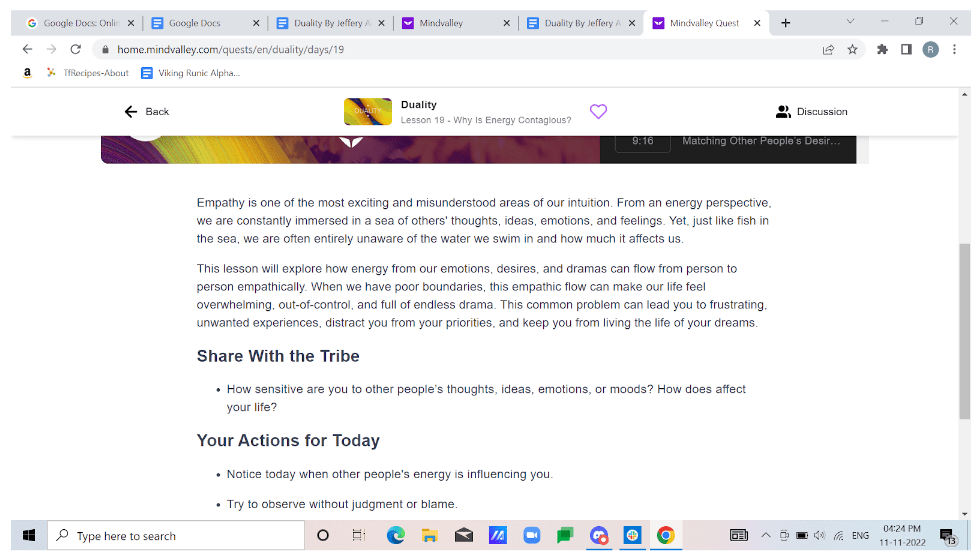 You must realize that only you're in control of your mode; hence, there is no point blaming others. He also mentions a great healing technique called Permission Rose, which is one of the highlights of this fourth phase of the Quest. 
Stage 5: How To Use Chakras To Communicate And Manifest Better
You'll learn more about chakras in stage five. These chakras hold enormous power, and they are our source of energy. These chakras radiate our energy into the world and receive energy around us.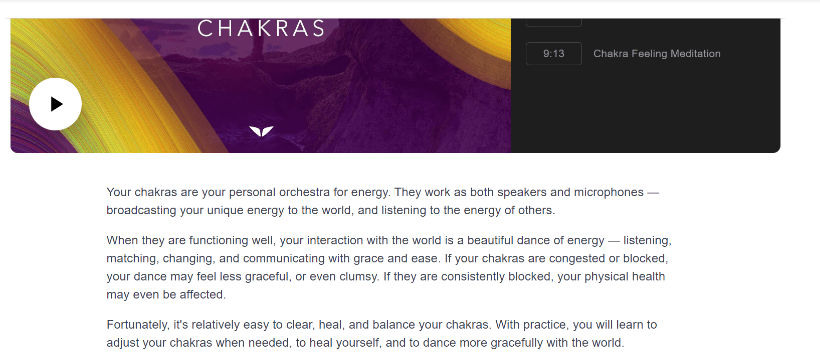 Other classes in stage five include practicing how to clear energy blocks from your manifestation, how not to get stuck with old patterns, healing the energy chakras,, and more. This stage is essential in terms of understanding more about the chakras. 
Stage 6: Getting Rid Of Limiting Beliefs
Stage six is about developing emotional balance and seeing the world with an open mind. Jeffery Allen talks about different tools and exercises to clear any obstacles or limiting beliefs and see the world in a new light. 
Stage 7: Learning To Access Our Intuition
Get deeper insight into intuition, how to access it, and clear blocks from utilizing our intuitive power. Further, he reveals tools to improve our intuitive power, get aware of incidents, the correct timing for new activity, etc.
Stage 8: Accessing The Highest Awareness
The Quest ends with making ourselves confident of us. How to access our highest self, meet our spirit guide, and seek guidance from them to live a happy, successful, and abundant life.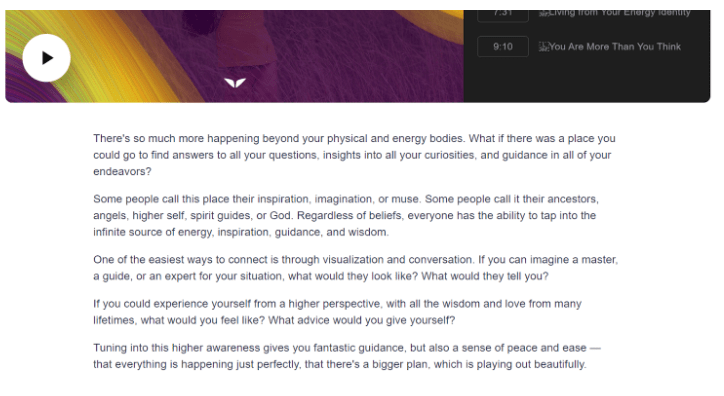 Who Is Duality For?
There is no specific age to try Duality. Any adult going through a difficult time can try Duality. If you feel you've lost motivation, find it difficult to concentrate on work and family, and have lost interest in everything in general, you can try Duality.
You'll be shocked to discover the healing powers you have inside you and the potential of these powers. You don't need to refer to any external source since all answers are within you, and if you know the right way of utilizing the powers, you can get yourself out of trouble. 
Is Duality By Jeffery AllenWorth Taking? My Experience 
Feeling lost, tired, and demotivated isn't uncommon. It happens to all of us. However, the problem arises when we find it difficult to get out of such situations and things turn terrible. 
My situation was pretty similar. I was at a phase where stress and anxiety had taken away my happiness and any fin factor from my life.
I won't lie. My first option was not Duality. I was going to see a therapist, but then I came across Mindvalley. One of my well-wishers suggested Mindvalley, said they have quests for everyone, and mentioned Duality. 
I did some research, tried to get more honest reviews, and finally decided to enroll myself, and I must say it was the best decision I took.
Calming down my mind and escaping from overthinking was my most significant task. Duality's guided meditations have helped me calm down my nerves and put my mind at ease. 
As we progressed in the Quest, I realized nothing was outside my capacity. I can take full charge of my emotions and discover what is troubling my thoughts. 
T could figure out what I was doing wrong and where I needed to amend myself. And towards the end of the Quest, I was ultimately different. 
I also realized that laziness was also one of my enemies. But the Quest has helped me feel more energetic and more energetic to have a productive start to the day. 
If you're struggling to find inner peace and happiness, Duality will surely help you. The chakra and energy healing techniques used by Jeffery Allen are pretty powerful and will take you out of any troubling situations. 
However, I must mention that for the Quest to work on you, you must have faith in the Quest. If you're skeptical or don't believe in energy, meditation healing, Duality, or any Mindvalley quest won't help you. 
How Much Does Duality Cost?
The original price of Duality is $999. Yes, I know it's pretty expensive, and that's the case with all Mindvalley quests if you buy them separately. 
Buying the individual Quest gives you lifetime access to the Quest. But lifetime access is not so essential since you'll learn the meditations and can do them yourself. 
Hence, the better option is to opt for Mindvalley memberships. There are monthly and yearly membership plans on the Mindvalley platform, which are cheaper than buying individual quests. 
And the best thing is Mindvalley quests give you complete access to their library, and you can take up as many quests as you want.
The current Mindvalley membership prices are as follows-
| | | |
| --- | --- | --- |
| Mindvalley Membership  | Old price  | Current price  |
| Monthly | $149 | $59 per month |
| Yearly | $599  | $299 per month |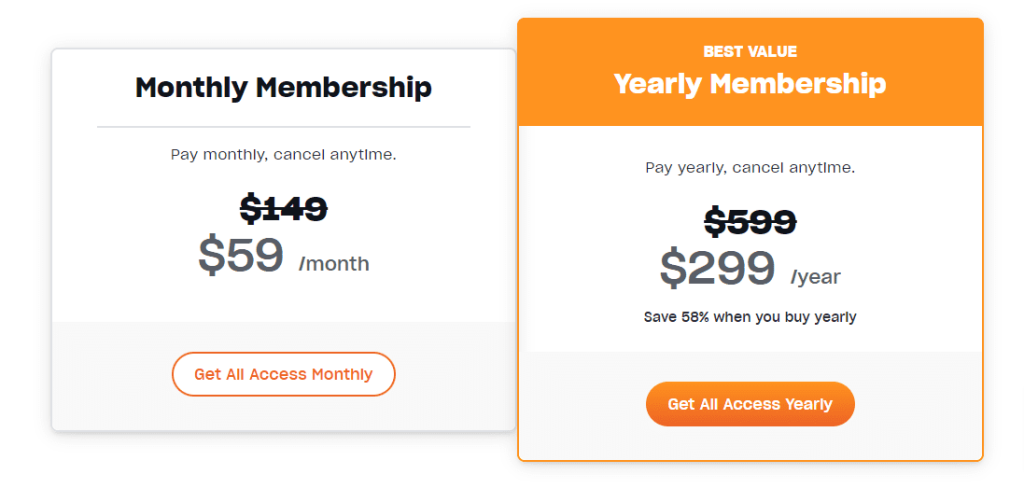 Mindvalley also offers a 15-day money-back guarantee. After starting the Quest, if you feel it's not for you or are not satisfied with the sessions, you can go to their refund page and ask for a full refund. 
I would suggest you read the terms and conditions before opting for the refund to avoid any deductions.  
Final Thoughts! Duality By Jeffery Allen
I hope this Duality review has been informative. Enrolling in an expensive quest like this raises so many queries, and a detailed breakdown of the Quest comes in handy. 
And some people prefer meditation and other wellness methods before trying other means. If you're going through a tough patch in life and need help to come out of a dark place, Duality is your savior.