Are you struggling to remember what you just read, or have you completely blanked out on something somebody just told you?
This happens to most of us. Despite spending a lot of time reading or trying to improve our memory, it isn't easy to get desired results.
Jim Kwik's Superbrain promises to help you improve your memory with its 34-day online quest. But is the course really effective?
I'm sharing my experience with Superbrain and whether it helped me. Keep reading this detailed review if you want to make the right decision.
A Brief Insight Into Superbrain
Superbrain is a quest to unleash the superhuman memory and reading speed that we all have. In the memory enhancing program, Kwik talks about techniques through which we can remember twice or four times more what we otherwise do.
In the short 25 to 20 minutes classes, Kwik guides us through some powerful tools using which we can supercharge our memory, learning capacity, and focus.
Superbrain sounds like a challenging course, which is not valid. The quest is actually very easy to follow, but it requires total concentration to develop our memories.
One of this masterclass's core principles is learning how to learn. In our conventional education system, we only learn about using a fraction of our memory.
Jim tells us that we can unlock the full potential of our brain with some simple techniques and retain more information with some simple hacks.
I know most of us believe that we all are born with a certain memory and cannot supersede it. Even though it's true that we all are born with a unique memory, Jim says we can boost our memory power with some intelligent techniques.
There are multiple segments of the course; each gives us insight into how we can improve our memory with slight changes in our approach to reading and minor lifestyle changes.
One of the key concepts or hacks of the Superbrain masterclass is the F.A.S.T System which is-
F (Forget)- Forget whatever you learned or you think you know and approach learning as a new field.
A (Active)- You need to be constantly active during the course. Jim Kwik's classes require active participation for the techniques to work on you.
S (State)- A conductive state of mind is of utmost importance during the masterclass.
T (Teach)- Practicing your skills with others will help you master the art further. Hence, keep spreading the skills you've acquired.
I'll give you a detailed background of the course structure in the upcoming section, so do keep an eye on it as well.
Who Is Jim Kwik?
Before we jump into more detail about Superbrain, let's look at the course creator Jim Kwik. Jim Kwik is one of the world-famous brain coaches who has worked with reputed brands like- Nike, Virgin, Zappos, Havard, Singularity University, and more.
He is also famous for training actors to help them remember film scripts super fast. But was Jim born with such an extraordinary memory? Strangely no.
He is known as the boy with a broken brain. He had a brain injury when he was five, making his academic life extremely challenging.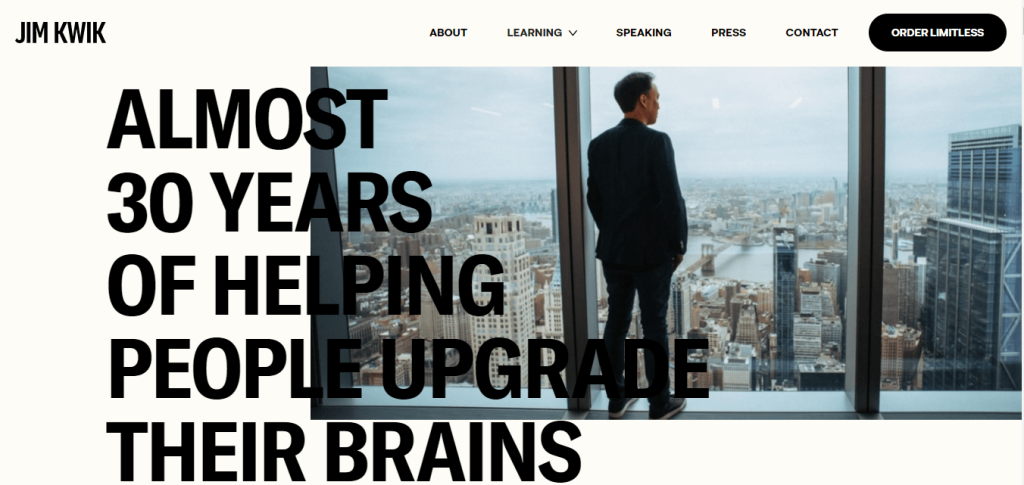 Retaining information was very difficult for him, which is why he started spending more time in the library, compromising his eating and sleeping routines. He neglected his health to the point that he had to spend two years in the hospital.
It was during this time that Jim realized he was taking the wrong approach to learning. He sought help from a coach and learned speed reading.
After that, he started his own company called Kwik Learning, where he helped people with faster reading and memory-retaining techniques.
Who Is Superbrain For?
Superbrain is the best masterclass for anyone wanting to retain more information in less time. The course is more about learning smarter than learning more.
If you are a student, business professional, or related to anything that requires more information processing, Superbrain will tremendously help you.
Superbrain will help you boost productivity, and you'll learn twice or four times more than what you would learn otherwise.
If you're struggling with reading, comprehension, or memorizing, Superbrain might be the right course for you.
What Is Covered In Superbrain? Complete Course Breakdown
Sometimes the Mindvalley courses seem too good to be true, including Superbrain. So I'm sure you're curious to know how Jim Kwik's course works. Therefore, I'll give you a complete course breakdown of the 32-day learning period to ease your confusion.
I'll also discuss the unique features of all eight parts to help you understand better what to expect from the course. Let's get started-
Superbrain Part Wise Course Details, Preparation
Similar to most Mindvalley courses, Superbrain begins with a preparation section. There are five parts to it. The first video shows you what to expect from the course, knowing your capabilities and using them to the full potential to unleash the great learning powers you have.
As you continue the introductory lessons, you'll learn about essential techniques, hacks, or pillars that help you improve your memory.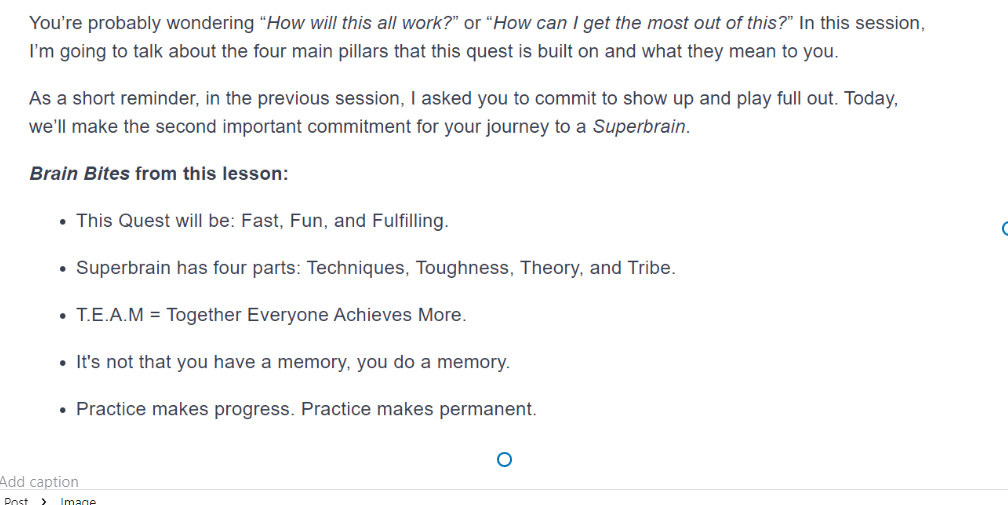 Part #1: Master The Fundamentals
This is where the true masterclass begins. Jim familiarizes us with the true meaning of learning and memory. He talks about habits or changing our old perspective to learn new techniques.
Some of the key concepts the first part focuses on are-
Ten factors influence how weak or strong our memory is.
Jim shares his own story of hardship which led him to realize how the human brain works and how we can optimize our brains to learn more things in less time and reduce the long hours we spend trying to memorize new information.
The fastest way to memorize any concept or a massive chunk of information and lock it in our brains forever. There are more things that he covers in the first phase apart from these three as well.
Part #2: Lifestyle
In the next part, Kwik talks about how confident lifestyle choices influence our memory. By making a few changes in our diet, sleep, and thinking patterns, we can easily become memory experts.
The central focus of the second part is-
Psychological elements related to food, memory, sleep, and exercise. How our brains work depends a lot on these habits.
You'll get to discover the connection between sleep, memory, and stress.
How getting rid of negative thinking helps us learn and memorize faster, etc.
Part #3: Remembering Long Lists
All of us struggle to remember long lists- be they numbers or names. But this, too, is possible if we know the right way to memorize them.
Here are the key areas Jim focuses on to help us remember lists-
The party trick technique is memorising lists irrespective of how long.
The most powerful memory strategy we know and how we can use it to memorize long lists.
Another crucial method he talks about is the Chain Linking technique to retain more information.
How we are stuck in the typical System of the old education system. He shares ways of changing the old ways and adopting new techniques to learn more quickly.
Part #4: Remembering Names
If you struggle with remembering names, this section is essential. A lot of times, we face the embarrassment of forgetting names, especially when we're in any networking business. To save us from this awkward situation, Jim talks about-
How to remember names as soon as we hear them.
The FDR technique boosts our confidence. He shares a very simple and somewhat funny trick of remembering names within seconds. He says that when we hear someone's name for the first time, we should imagine writing it on that person's forehead.
It works because our mind does not know the difference between the real and the imaginative thing. So when the next time we see that person, we see the name written on the forehead too.
He also calls it the 6-second syndrome. Any new name remains in our brain for six seconds before we forget it, so he asks us to imagine writing that name within the first six seconds.
Part #5: Vocabulary & Languages
The following section is all about helping you improve your vocabulary and learn new languages. This section will come in handy if you're in a profession that requires communicating with multilingual people.
Here are the main things covered in this section-
The keyword substitution method helps master a new language in the shortest span.
The important tip for expanding vocabulary is entirely different from trying to memorize words from a dictionary and Jim's other secret tips, which I found very beneficial.
Part #6: Memorizing Speeches & Texts
The key point here is to deliver the speech from the heart instead of simply memorizing the lines. When you invest in the words, the chances of impressing the audience are higher.
The key factors covered in this part are-
Jim shares his secret preparation tip before we even start forming our speech.
His three-step process of not forgetting any key points.
His super simple method of remembering speech word by word without forgetting even a single word.
Part #7: Numbers
I'm extremely bad at remembering numbers. Being a literature student, I have to remember lots of years, but I was stunned by how simple Jim made it for me. In this section, he discusses-
The difference we must know about remembering numbers and names.
The quickest and easiest way to remember numbers.
How the Sounds of Memory Technique works while remembering numbers.
Part #8: Lifestyle Integration
The last section sums up everything and teaches us how to integrate everything and incorporate it into our daily life for overall memory improvement.
Here are the primarily focused areas of part 8-
Five transformation levels
The implementation day to integrate learning
Five levels of learning
That's not it. There is a bonus section for all the learners to explore. There are four bonus sections in the course. They are as follows-
Bonus 1: Overcoming procrastination (five fast and easy ways to kill procrastination)
Bonus 2: The 8Cs To Muscle Memory (Simple hacks for improving our muscle memory to use it to our advantage)
Bonus 3: Remembering Our Dreams (Six steps to revive and decipher our dreams and decode the messages)
Bonus 4: Speed Reading (Tips and tricks that help increase our reading speed by 25 to 50%)
How Much Does Superbrain Cost?
Superbrain was initially priced at $1099. I know it's a lot for a month-long course. But that's the case with all Mindvalley quests. They are expensive. However, Mindvalley has reduced the price to $449.
This is expensive for a single course, although it gives you lifetime access to Superbrain. But you can buy Superbrain at an even lower price by opting for Mindvalley's All-Access Pass.
All-Access Pass is a Mindvalley monthly or yearly paid plan that gives you access to all the Mindvalley quests. This is the best value plan because you will have the liberty to learn at your pace and use the other quests as well.
Here are price plans for Mindvalley monthly and yearly plans-
| | |
| --- | --- |
| Membership type | Price |
| Mindvalley Yearly Membership | $299/year |
| Mindvalley Monthly Membership | $59/month |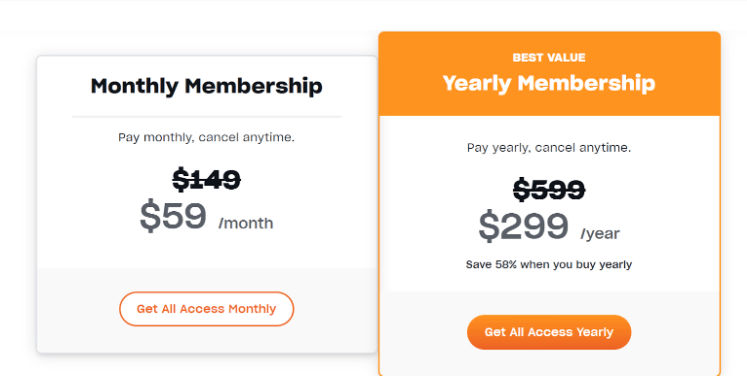 Should You Take Superbrain? Is It Worth Trying?
Superbrain is worth trying if you want to learn great ways to learn faster and more effectively. My profession requires me to read numerous books and process such information. Memorizing this much information is confusing; hence I took up the Superbrain masterclass. 
I never knew we could increase our memory with some simple hacks. These hacks help us increase our memory and read fast; hence the quest was worth trying.
It also helped me learn how our thought processes can impact our memory. Positive thinking and a positive mindset help us improve our learning a lot.
Also, the videos are super easy to follow. However, it requires complete concentration. You can't expect to improve your memory if you are absent-minded during classes.
Some classes were irrelevant to me—for example, the name-remembering section. But my overall experience with Superbrain was positive, and I would recommend it to anyone trying to improve their memory, concentration, and information retention.
Related Reads
Final Thoughts! Superbrain By Jim Kwik
I hope you found all the relevant information you wanted regarding Superbrain. I opted for the course because I lacked in my academic goals even after giving 100%. Even though a few sections were unsuitable for my requirement, my overall experience was positive.
I think this quest is for everyone struggling to retain information, worried about the enormous academic syllabus, or people who have to process a lot of information daily. If you have any queries regarding the course structure, price, etc., drop them in the comments.