Podcast: Play in new window | Download
Subscribe: iTunes | Android | | More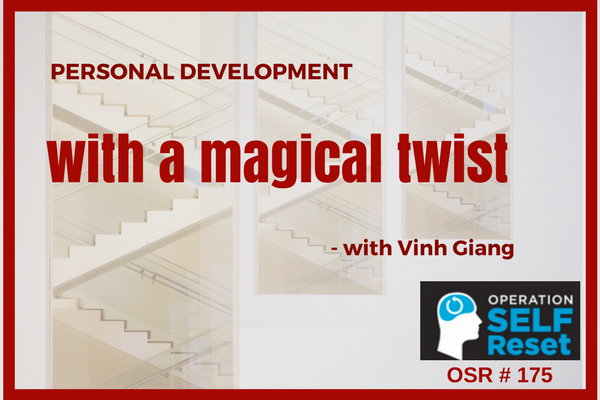 From a hesitant kid to an influential speaker and magician, Vinh Giang had a roller coaster journey. Listen in to today's show has he sheds light on the most important lessons he has learned along the way.
Here's what's been covered in a nutshell:
If the rule: "A card can not float" is not universally true, what other rules you go buy are also not true?
Perception is reality. Magicians learn how to control your reality, but you can change your perception, too.
A magic trick is just a problem you can not seem to solve. To solve it, you need to look at it through multiple perspectives. You can see multiple perspectives, but you need to force yourself to see from different angles.
Other people can see other realities in you that you do not see.
Sleight of hand and showmanship go hand in hand in the magicians' world. To you, this means you need to be both technically good at what you do and also become a great communicator.
The dots won't connect looking forward, but they will connect looking in the past!
Mentioned in this episode:
Before You Go
Head over to www.operationselfreset.com and sign up for the Toolbox of free gifts that will help motivate and inspire you!
Connect with Jake on Twitter and let him know how you enjoyed the show! You can also connect with him on Facebook or send him an email at support@operationselfreset.com.
Subscribe to Jake's podcast for more inspiration!
Sign up for his emails full of tips to change your life!