Podcast: Play in new window | Download
Subscribe: iTunes | Android | | More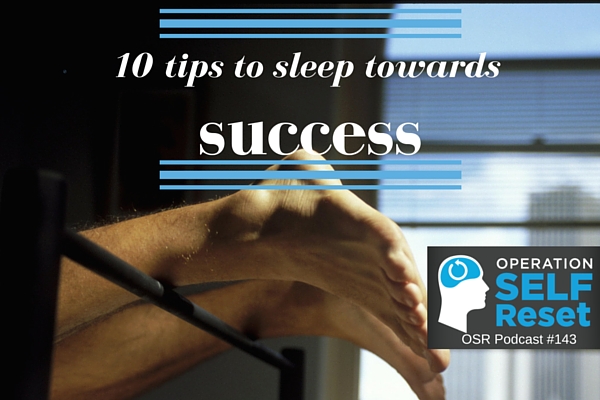 Episode 143: 10 tips to sleep towards success
Episode 143 is a solo episode where Jake gives us awesome tips on how to get a better sleep. He startsoff with asking you where you could shade some time in your daily routine so that you can add extra 30 minutes of sleep. It could be less Facebook, less TV time, or anything else that you think it is a good fit for you.
Here's what's been covered, in a nutshell:
Follow in the footsteps of masters of a craft around the globe: they sleep 8 hours and 36 minutes on average.
Know how much sleep you actually get! The University of Chicago ran a study on a group of people that stated they sleep between 7 and 8 hours a night. But, using their technology, the University found out the group only slept for about 6 hours a night, on average.
Avoid these sleep thieves: cafeeine, tobacoo, alcohol, a large meal within 3 hours of your bed time, poor bedroom environment (too much ambient light, too cold, too warm, technology near the bed) and the worst of all, stress.
Go to bed and wake up at the same time, everyday!
Make up for lost sleep immediately!
Avoid screen time before bed. Use apps like f.lux and blublockers!
Cafeeine curfew. Try your best not to drink coffee after 2 p.m.
Stay cool. The optimal temperature of the body during sleep is 60-68 degrees.
Put your bear feet on the ground as often as you can! Use your basement, buy a grounding pad or even a grounding blanket!
Use night time rituals. Drink the same type of drink, brush your teeth at the same hour, whatever your routine is.
Mentioned in this episode:
http://www.blublocker.com/collections/blublocker
http://www.resetgift.com
Before You Go
Head over to www.operationselfreset.com and sign up for the Toolbox of free gifts that will help motivate and inspire you!
Connect with Jake on Twitter and let him know how you enjoyed the show! You can also connect with him on Facebook or send him an email at support@operationselfreset.com.
Subscribe to Jake's podcast for more inspiration!
Sign up for his emails full of tips to change your life!