We all know Mindvalley to be one of the best online learning platforms. Even though it's one of the best learning institutes out there, with famous personalities as coaches, Mindvalley is pretty expensive. 
Therefore, I often get queries from people asking, are there any Mindvalley alternatives?
Yes, there are lots of Mindvalley alternatives that provide quality courses but at a slashed price. I will review the top ten Mindvalley substitutes you can try in 2023. 
So let's get started.
A Brief Detail About Mindvalley
But before we jump into the list of substitutes, let's take a brief look into Mindvalley. Mindvalley is a learning platform founded by Vishen Lakhiani. He started Mindvalley to provide education that we don't usually receive in schools and colleges. 
The purpose of Mindvalley's quests and courses aim to help people live a more fulfilled life by finding a perfect balance between the mental, physical, and spiritual worlds. 
Often in life, we compromise on our happiness and inner satisfaction, trying to fit in social standards and earn a decent living for ourselves and ourselves. 
Mindvalley offers quests that promise to help people achieve their career goals by understanding energies, our inner self, and how our mind works on different levels.
Mindvalley has more than 50 courses catering to all aspects of life, be it fitness, personal development, finding peace, showing secrets to leading a successful life, etc. 
While there are quests for everyone, some may not find a specific course they are looking for in Mindvalley. Moreover, even though Mindvalley believes in quality courses, they are not accessible to average citizens due to their price tag. 
This is why I researched and shortlisted some of the best platforms besides Mindvalley you can enroll in.
List Of Top 10 Mindvalley Alternatives
Here is the part you have been waiting for. Following are some of the best Mindvalley substitutes I have picked.
EdX
Masterclass
Udemy 
Coursera 
Ed2Go
Universal Class 
Class Central 
EduCBA 
Digital Tutors/ Pluralsight 
Skill Share 
I'll discuss each platform along with the pros and cons, so let's begin.
1. EdX
EdX is a popular online education system created by MIT and Havard graduates. The purpose of EdX is to transform how the academic scenario works.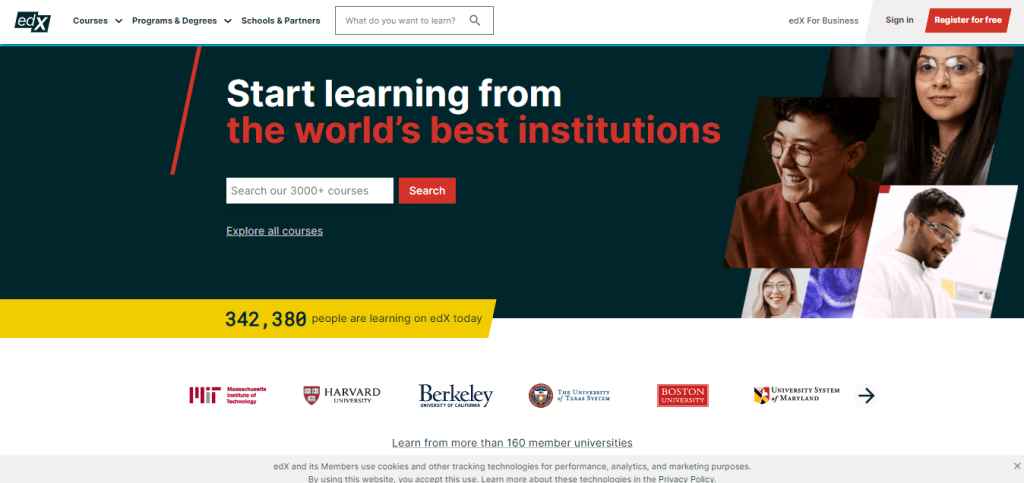 Millions of people for whom higher education is a privilege and not accessible. EdX wants to make quality and higher education accessible to everyone, irrespective of age and class. 
EdX provides university-level courses devised by renowned alumni of reputed universities worldwide. EdX was created in 2012, and currently, it offers more than five thousand courses with thirty million learners and members on the platform. 
Each course is designed and taught by experts. The courses have proper study materials, assignments, and tests to help you acquire expertise in your chosen subject.
Furthermore, EdX courses start from $12 and go up to $300, which is a lot cheaper than Mindvalley.
Pros
Taught by experienced teachers
Provides certificates after course completion
Budget-friendly prices
Cons
The majority of the courses are technical
2. Masterclass
If any art and craft excite you, Masterclass is your destination. This online learning institution provides all types of creative courses like- cooking, acting, singing, filmmaking, writing, sports, spirituality, travel, marketing, business, and more.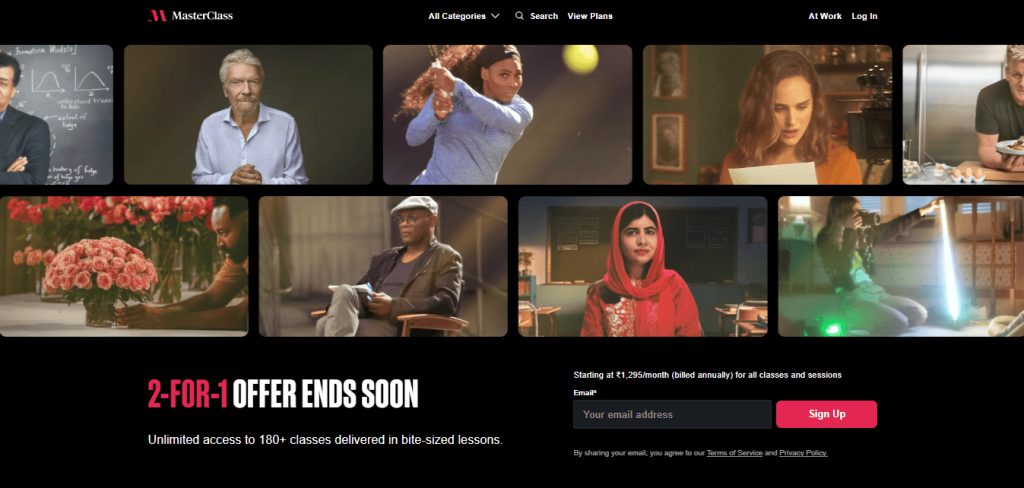 There are 150+ courses belonging to all niches. The best part about Masterclass is that these courses are created by experts ruling their industries. 
You get to learn from them directly, and they share their secret tips and tricks that have helped them find success in their careers.
For example, there is a masterclass by Kris Jenner, Anna Wintour, Robin Roberts, etc. Talking about the prices, there are three paid plans- Individual, Duo & Family.
The individual subscription is $180 for a year, which isn't a bad deal. But if you have a friend or sibling who is also willing to join Masterclass, you can opt for the Duo subscription, which is priced at $240, where two devices can log in. 
Pros
Quality education provided by industry leaders
Learn at your own pace
Allows you to download the videos and study material
Cons
There is no free demo course
3. Udemy
I'm sure we all have heard of Udemy, right? But have you ever thought of Udemy as a substitute for Mindvalley?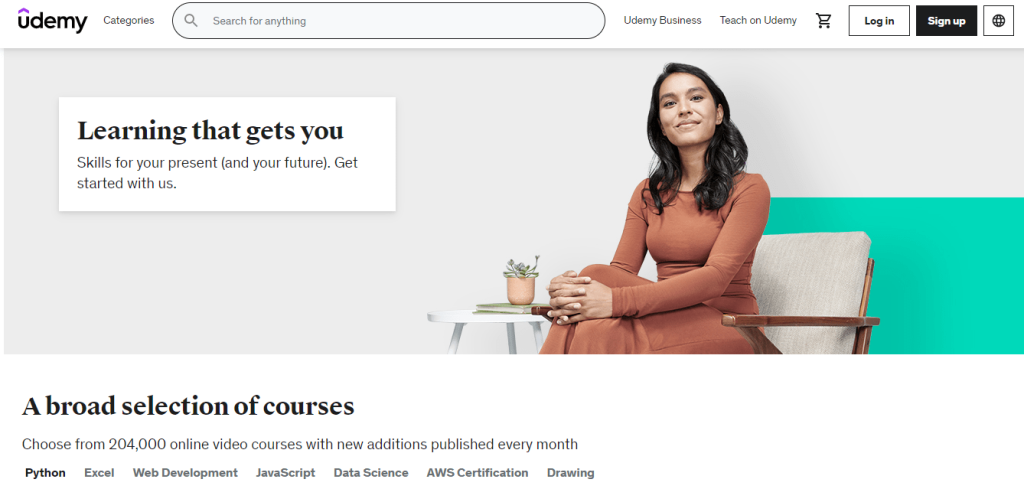 Udemy has a wide range of courses which is why it has become one of the most preferred learning destinations among curious learners. Udemy offers more than two lacs courses and is accessible to almost everyone around the globe.
There are courses related to spirituality, personal development, language, design, finance, IT and software, coding, marketing, arts & crafts, and everything you can think of.
Udemy offers courses at the cheapest rate starting from $1.99; some courses are even free. 
Pros
It provides certification after course completion
Endless options to choose from
Regular assessment to evaluate yourself
Cons
Free courses are not very valuable
4. Coursera
Another widely recognized online learning institute is Coursera. Coursera provides professional courses, and this learning institute has been acknowledged by most reputed universities globally.
In my opinion, Coursera is one of the top Mindvalley competitors in imparting quality education. Coursera offers 5000+ courses, and most of them have a course period of four to twelve weeks, 
But there is no rush, and you can learn at your own pace. There are courses related to arts & humanities, data science, IT and software, marketing, finance, mindfulness courses, writing, arts and craft, and much more. 
Coursera offers a seven-day free trial, and courses start from the price range of $40 onwards.
Pros
Provides lifetime subscription
Top universities acknowledge their courses 
Wide range of options to choose from
Cons
Classes can sometimes get a bit tedious
5. Ed2Go
Ed2Go is another great Mindvalley alternative where you can acquire a new skill from fundamentals to advanced career training.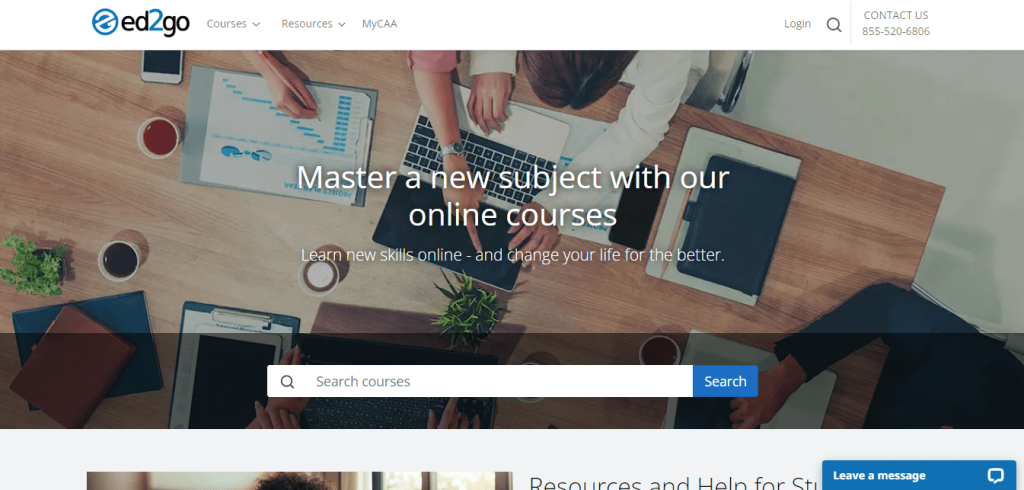 Ed2Go has more than a thousand courses to choose from- arts, computer application & science, business, health & fitness, hospitality, writing, information technology, language, and much more. 
Instructors prepare Ed2Go courses from famous universities worldwide that are well-versed in the current curriculum and the latest technological developments. 
Ed2Go also provides certificates after course completion from renowned universities.
Please note that Ed2Go is not the cheapest Mindvalley alternative. Although their course price starts from $70, they go up to $5000.
Pros
Provides free courses as well
Provides certificates after completion
Wide range of course options
Flexible timing
Cons
Advanced courses are pretty expensive
6. Universal Class
Universal Class is another trusted online learning platform with over a hundred thousand students and 600+ courses. 
Universal Class provides courses to schools, colleges, and universities, and learners can also enroll as individuals. It's one of the best institutions if you want to be homeschooled.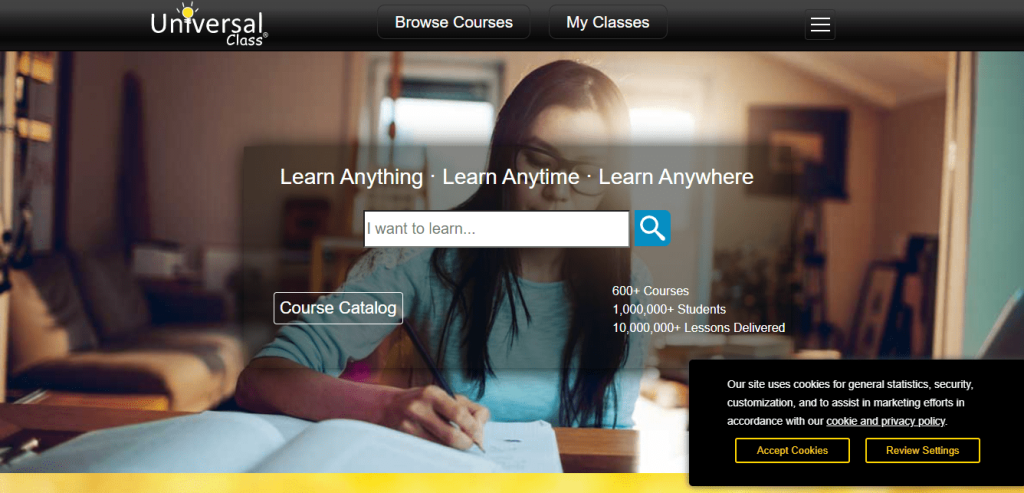 They offer courses with proper lessons, assignments, assessments, regular assessments of your progress, and a discussion board. The best part is you can interact with the teachers anytime.
Universal Class offers certificates once you complete your course, which is again a plus point. You can take yearly or monthly subscriptions at Universal Class. Their monthly subscription starts from $79.
Pros
Study at your own pace
Courses available in almost all niche
Provides completion certificates
Cons
No complimentary or trial courses 
7. Class Central
Class Central is a Massive Open Online Course provider that connects learners with appropriate courses from online platforms like- Coursera, Ed2Go, Udemy, Linkedin, etc.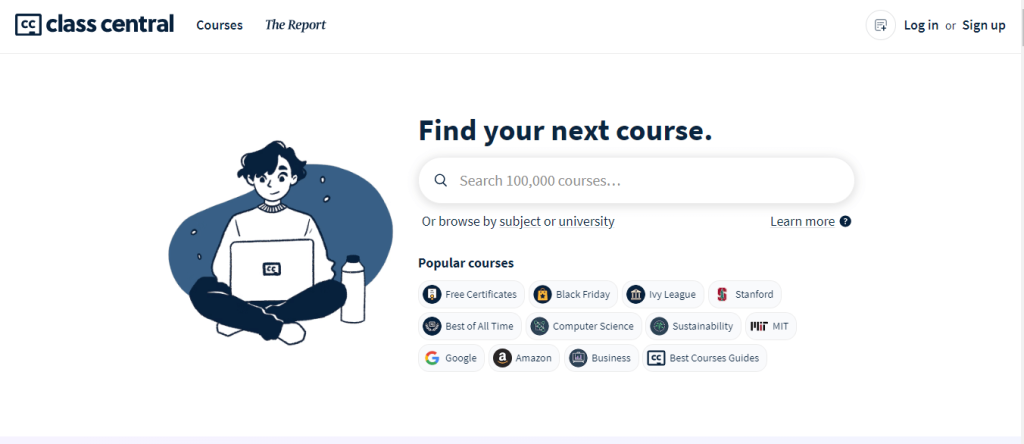 The primary purpose of Class Central is to aggregate courses from different online platforms to help you find the best option. With Class Central, you don't have to browse multiple platforms to search for the perfect course; instead, find it in Class Central. 
Class pricings are also very affordable. Their courses start as cheap as $14.
Pros
You get to connect with thousands of learners across the world.
Courses from almost all industries are available
Courses are available in multiple languages
Cons
You don't get any course certificate
8. EduCBA
EduCBA is a skill-based online learning platform. Its courses are prepared by IIT and IIM graduates and have over a hundred thousand learners from 70+ countries.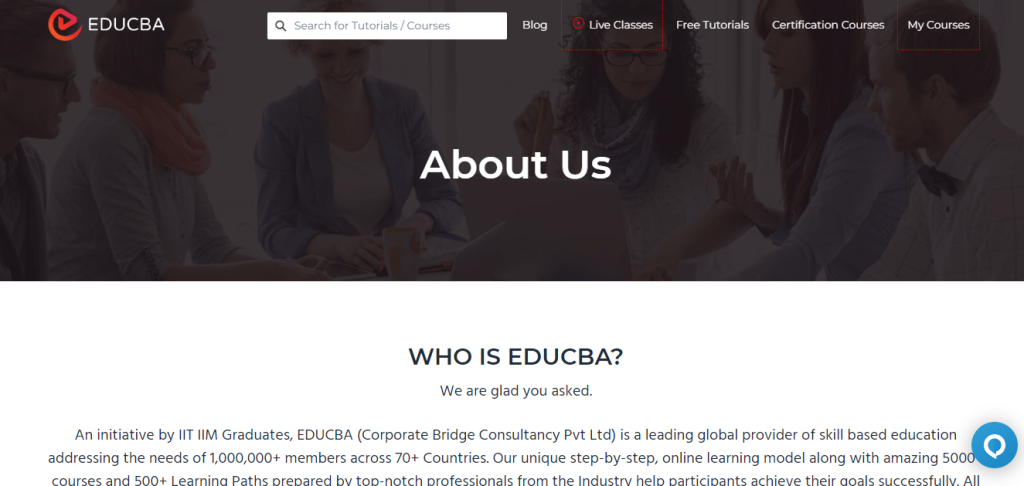 EduCBA has over 5000 courses catering to all on-demand niches in various industries. The primary purpose of the course is to help learners acquire job-oriented skills with guidance from industry experts. 
The best part about EduCBA is that it gives lifetime access, so once you buy a course, you can access it forever. EduCBA course prices start at $40 and go up to $999.
Pros
Lifetime access
Job oriented courses
Flexible learning time
Cons
9. Digital Tutors/ Pluralsight
Now known as Pluralsight, Digital Tutors is another excellent substitute for Mindvalley. Digital Tutors are mainly for IT professionals and businesses to help them learn technology-related skills.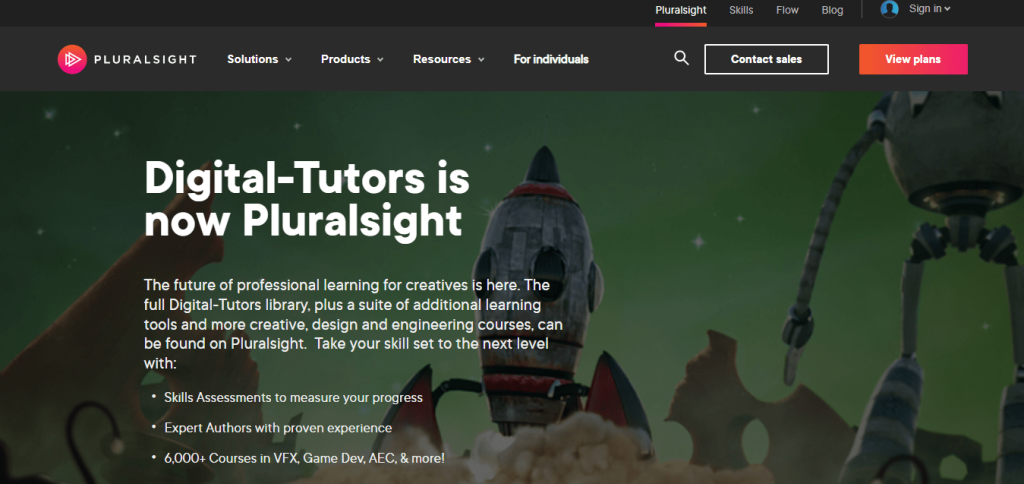 Digital Tutors help you acquire professional skills without the need to attend any physical institution. The best part is that Pluralsight or Digital Tutors runs multiple offers and provides free courses. 
There are two types of paid plans- for individuals and teams. Team subscription has three subscription plans – Starter, Professional & Enterprise. And the individual subscription has- standard and premium. 
The individual prices start from $29 a month, and the professional starter plan starts from $579 yearly. 
Pros
Provides course certificates
Lifetime access
Taught by industry professionals
Cons
The team plans are a bit expensive
10. Skill Share
We are wrapping up the top ten Mindvalley alternatives with the last best substitute, SkillShare. Skill Share has courses for all industries like- arts, crafts, photography, animation, graphic design, marketing, freelancing, etc. In total, there are 35000+ courses and over five million users.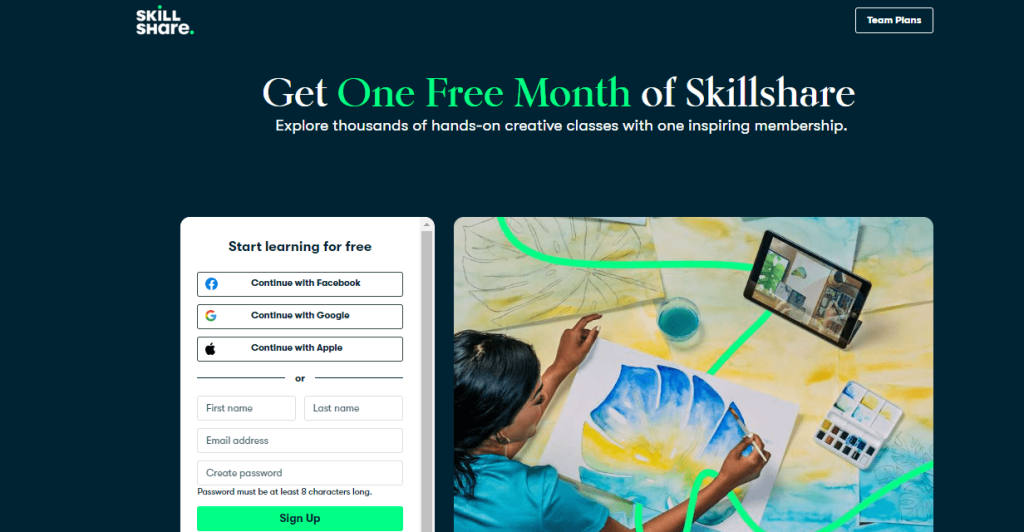 The best part is Skill Share provides one month of free trial and a 30-day money-back guarantee if you opt-out. 
Skill Share courses are taught by industry experts and creators who share their tips and tricks with you.
Pros
Free trial of one month
Courses are planned by Industry experts
Offers multiple free classes as well
Cons
There are no similar personal development courses like Mindvalley
Final Thoughts! Mindvalley Alternatives
I hope you found this extended list of Mindvalley alternatives informative. These online learning platforms provide a quality education to help you acquire new skills. Plus, almost all the substitutes are cheaper than Mindvalley and accessible to everyone. 
Let me know which platform you liked the best and if you are facing any issues enrolling in the comments. I'll come up with a solution soon.
FAQs: Mindvalley Alternatives
Does Mindvalley Provide Free Courses? 
No, there are no free courses on Mindvalley. But it offers free masterclasses once in a while. 
Mindvalley Or Masterclass: Which One Is Better? 
Both Mindvalley and Masterclass are best in their ways. Mindvalley focuses on personal development, while Masterclass focuses on creative and skill-based courses. 
Are These Online Learning Platforms Beneficial? 
Yes, these learning platforms are beneficial. They let you learn new skills without the need to attend physical classes and let you learn at your own pace. Most of the platforms provide certificates as well.