Podcast: Play in new window | Download
Subscribe: iTunes | Android | | More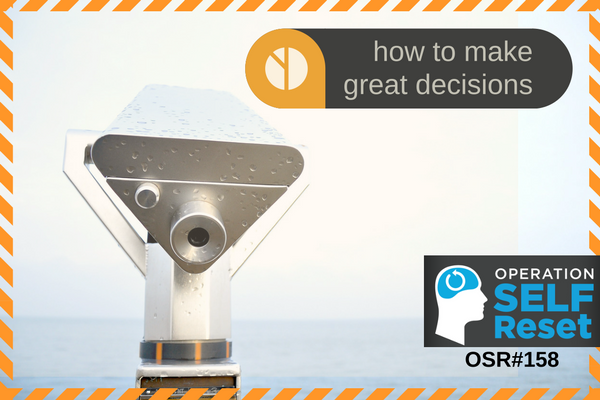 Wish there was a science of how to make decisions? Would that make your life easier when it comes to making decisions?
Well, there isn't. There are just decisions we ponder on, and decisions we take on the spur of a moment.
There is no secret of how to make good, quick or long decisions either.
But the good news is that there are some principles you can rely on in order to make good decisions.
Ready to find them out?
Reference your experiences.
Go with your gut.
Understand the outcome.
Here's what's been covered, in a nutshell:
Better questions get better answers.
Analyze the event and reflect on it. How could you make it smoother? What could you make better?
Be present in the moment. It is the difference between an average job and a great job!
When you make bad decisions, take a moment and look back and identify what exactly caused it to be a bad decision. Was it the timing? The sequence? The location?
Your experiences are only as good as you reflect on them and analyze what you could improve on.
Stand up to the decisions that you make.
Work out your decision muscle. At first, it will be flabby and sore, but in the end, it will pay out.
What is your legacy and what will you be known for in history?
Before You Go
Head over to www.operationselfreset.com and sign up for the Toolbox of free gifts that will help motivate and inspire you!
Connect with Jake on Twitter and let him know how you enjoyed the show! You can also connect with him on Facebook or send him an email at support@operationselfreset.com.
Subscribe to Jake's podcast for more inspiration!
Sign up for his emails full of tips to change your life!