Podcast: Play in new window | Download
Subscribe: Apple Podcasts | Android | | More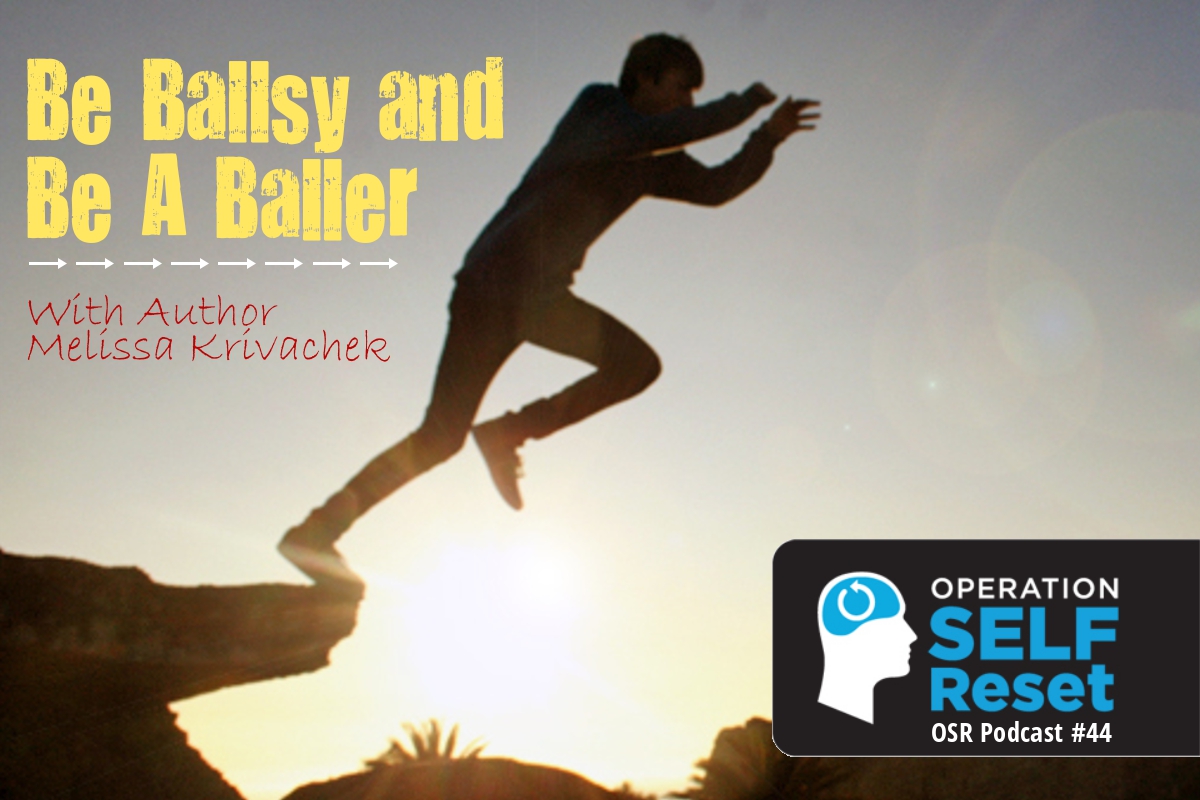 Operation Self Reset Episode 45: Be Ballsy and Become a Baller
In this episode of the Operation Self Reset podcast, Jake is talking with author Melissa M. Krivachek.
Melissa grew up in a tiny town in Iowa and started working in retail as a teenager. She moved up the ranks quickly and became a store manager for Wal-Mart at the age of nineteen. She had everything—a great salary, a big house, a good life. But then she was fired for doing the right thing and going up against her district manager. She had no savings and so things went downhill quickly. She moved to Chicago and worked for Family Dollar, but things weren't working out as well as she'd hoped. She ended up living out of her car for a while at a rest stop. Eventually, Melissa realized she had to quit her job because it was making her so unhappy.
A call from someone trying to sell her weight loss shakes changed everything for Melissa. She had recently spent six days in jail for speeding and realized that she had to turn her life around. Melissa talked with Eric, the guy who randomly called her about these shakes, about whether he was happy and he laid out all of the problems in his life. They talked for five hours and Melissa encouraged him to follow his dreams and do what would make him happy. It hit her that everything she was telling Eric also applied to herself. Why wasn't she following her own dreams and happiness?
Melissa had a degree in counseling psychology and she had learned a lot about people over the years from working in retail. She decided to follow her own advice and do what would make her happy, so she started to motivate and advise people on their lives and futures. Melissa took charge of her own life and her own future, moving past any doubts and fears, and changed everything. She is now the author of two motivational books and helps other people find their own way to success. Listen to her story and how she did it all for inspiration to reach for your own dreams.
Featured Quote of the Day
"People will follow those with passion. Not because they understand, but because they believe." Sent in by Teresa, wife of Jordan Hart from Episode 8
Got a quote you want featured on the podcast? Something you've heard, something you've made up—send it all to Jake at ask@osreset.com.
Here's what Jake and talked about in this episode:
Turning your life around
Analyzing how you spend your time
Getting past the "Broke Mindset"
Mentioned in This Episode
Take Jake's survey for a chance to win a prize!
Before You Go
Answer Jake's survey to help him bring the guests and topics you want to hear about. Let him know what has worked for you or hasn't worked. Tell him about great books you've read or your ideas that would be perfect for our audience. If you fill out the survey, you'll also be entered to win a prize.
Connect with Jake on Twitter and let him know how you enjoyed the show! You can also connect with him on Facebook or send him an email at ask@osreset.com.
Subscribe to Jake's podcast for more inspiration, and sign up for his emails full of tips to change your life.
You can't change your life unless you take action. As Melissa points out, you can hang out with millionaires every day, but you'll never become one unless you do the work to find success for yourself. Don't be afraid to take action to get what you want.